Jurassic World: Dominion Dominates Fandom Wikis - The Loop
Play Sound
"The team works overnight to remodel the restaurant."

This page is under construction.
People
Pete, Co-owner and chef
Paulette, Co-owner and waitress
Josh, Chef
Gabe, Prep staff and waiter (later pizza delivery boy)
Celestina, waitress
Before Gordon's Arrival
The restaurant was opened in 1985 by owners Pete and Paulette. Pete, the owner and chef, is from an island in Greece. Their son, Josh, works as a cook and their grandson, Gabe, helps prepare food and is shown delivering pizzas later in the episode. The restaurant's slogan is "Denver's Best Pizza", as it was successful in the 90's. It received many wonderful reviews and won many awards. however it turned into a failing restaurant as Pete refuses to listen to his family members and change his methods.
First Impressions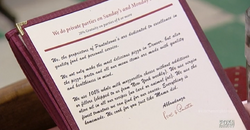 Gordon is shocked that the restaurant closes on Sunday and Monday. Pete refuses to open the restaurant on Sunday because he prefers to watch football. The restaurant also closes in the afternoon because Pete needs to nap. Gordon also learns that the restaurant does not deliver pizzas.
Celestina, a waitress, reveals to Gordon that the owners, Pete and Paulette, often have disagreements.
Gordon notices letter in the menu which states that everything is home-made and the food is cooked "just like mama did".
On the wall, there is a hologram of a green clown that scares people. It has been there for 15 years.
First Meal
Food Ordered
Pete's Calzone
Sausage Pizza
Meatball Hero
Linguini with Clams
Impressions of the Food
Ramsay find that the calzone is too full. The filling is cold and there are raw onions.
The pizza is so large that Gordon describes it as like "the pizza that ate Denver". Despite being a thin crust pizza, the dough is so thick that part of it is raw. The pizza was covered in oil and dripping in grease.
Ramsay find the meatball hero too big and difficult to eat. He comments that it looks like a sloppy joe. The bread is soggy and Gordon thinks it is like "eating a patch of soaking wet grass after a cow ****** all over it". He also says that it should be named a "zero" instead of a "hero".
The linguini is bland and "like a plate of hospital food". There is so much excess water that Ramsay decides to pour it into a glass. The clams came from cans.
Ramsay does a pizza taste test where people try three pizzas (A - from one of the best restaurants in Denver, B - Pantaleone's Pizza, C - store bought frozen pizza). Out of the three pizzas, 75% of people preferred A, 15% preferred C and 10% preferred B. People commented that Pantaleone's pizza had a soggy crust and too much cheese.
After Pete's family give ultimatums, Pete commits to changing. Gordon takes Pete and Josh to Rao's, an Italian restaurant in Las Vegas, via private plane. Rao's is owned by Frank Pellegrino Jr., who gives some insight into how he learned to run a restaurant.
First Dinner Service
Josh works the sauté line while Pete makes pizzas. Among the customers are Chloe Brown, Miss Colorado Teen USA 2013 and Amanda Wiley, Miss Colorado 2013.
Food takes very long to leave the kitchen as Pete and Josh become overwhelmed with orders and don't communicate effectively. Gordon calls them out of the restaurant and gives them a pep talk. After, they become more focused and get the food out in a more organized manner.
Reflections
TBA
Remainder of the Visit
Pete remained committed to Ramsay's standards and menu. The new menu receives positive reviews from customers and delivery clients.
Restaurant & Menu Remodel
The walls are re-painted black and white to give it a contemporary vibe. The old tables and chairs are replaced with modern furniture. New pizza and pasta signs are put on walls to create a "nice, fun, modern, hip vibe". 25-year-old restaurant reviews and the hologram of the scary green clown are removed, and replaced with pictures of Italy and family pictures.
Ramsay designed a fun contemporary menu that has a modern take on Italian classics. The size of the menu and portion sizes were reduced.
Gordon's friend from 1-800-Charity Cars donated a black van to be used as a pizza delivery van.
Final Service
TBA
After Gordon's Departure
TBA
Production Notes
TBA
Trivia
TBA
References